How much does it cost to Text with a Tracfone?
Most Tracfones charge .3 units per text to receive and to send. If you are buying $20 phone cards and you do not have DMFL you will be paying as much as 11 cents per text. If you are buying minutes with the $200 per year plan you will pay 2.2 cents per text to receive and send.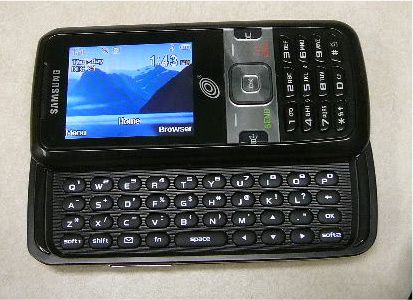 Net10 and Tracfone Samsung R451c Qwerty Keyboard
What is the Tracfone Connection to Net10?
Tracfone and Net10 are sister companies. They are both owned and managed by America Movil.
Here is some information from Wikipedia about America Movil. "América Móvil is a holding company forming the fourth largest mobile network operator in terms of equity subscribers, the largest corporation in Latin America, and a Fortune 500 company. A venture of Carlos Slim Helú, América Móvil provides services to over 201 million wireless subscribers in the Americas, primarily in Latin America and the Caribbean."
Famous Quotes

Government's view of the economy could be summed up in a few short phrases: If it moves, tax it. If it keeps moving, regulate it. Ronald Reagan
What is Tracfone DMFL?
Tracfone DMFL stands for Double Minutes for Life or Unlimited Double Minutes. If you have this on your phone any time you add minutes you will get twice as many minutes as stated on the card. It normally is not transferable to another phone. When they first came out these cards were $50. Now a lot of phones come with DMFL already installed. They are currently available for $20 at Tracfone.com. I do not recommend adding minutes to a phone that does not have DMFL.
Tracfone Prepaid Annual Mobile Plans
Tracfone has two yearly plans to select from.
$100 Tracfone Annual Plan
They market a $100 annual unit card that you receive Four hundred minutes (800 using DMFL). This unit card frequently has bonus codes available which will in most cases allow you to get an additional 200 to 400 minutes. Check for the most recent Tracfone Bonus Codes. If you only receive 800 units using this minute card gives you 12.5 cent minutes and less than $9 per month service. monspin-030110.
$200 Tracfone Yearly Plan
Additionally offered by Tracfone.com is a $200 per year plan. This card offers you 1500 minutes 3,000 minutes using the Minute Doubler installed and also a year of service. With Double minutes for life installed these units are 6.6 cents each and your per month cost is under $17 monthly.
When using either of these plans if you run out of Tracfone units before the year is up you'll be able to buy additional units by just purchasing another phone unit card. Get $3 off on any Tracfone mobile phone or accessory $19.99 or higher with promotional code 23444
Motorola Razr and Tracfone Samsung R451c Qwerty Phone
The $200 Tracfone Annual Plan
The $200 yearly Tracfone plan is the best deal in pre-paid phones. No other Prepaid phone company provides twelve months of service to use the phone with the low per minute charge of 6.6 cents a minute with DMFL.
What is Unlimited DMFL
Tracfone Wireless DMFL is Double Minutes for life of your phone. With DMFL you will receive twice the units that are stated on the Tracfone Unit Card. This will work for as long as you use your cellphone. In the event you permit your service to lapse the Double minutes for life will continue to work when you reactivate your cell phone. I do not recommend ever adding units on a Tracfone that does not have Double minutes installed on the phone. Adding two DMFL cards will not get quadruple minutes.
Buy the Tracfone.com $200 Yearly plan and get one year of service and 3,000 minutes with DMFL. Please be sure you have DMFL installed Before adding the $200 card.
*****Google Search Box*****